West Yorkshire Local Elections: Labour aims to tighten grip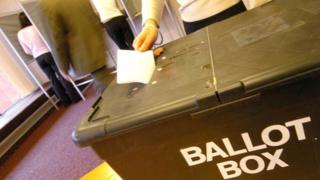 Labour is looking to strengthen its grip on all five of West Yorkshire's councils when voters go to the polls.
The party is already in full control of Leeds and Wakefield and as the biggest party in Bradford, Calderdale and Kirklees, the party runs those councils as a minority administration.
This time Labour goes into the elections with ambitions to finish up with majorities across all the councils in West Yorkshire.
But it is a big ask.
Battle for Bradford
In Bradford, Labour is just one seat short of an outright majority. It was foiled from that ambition at the last elections in 2012 when George Galloway's Respect party took five seats including that of the then Labour leader, Ian Greenwood.
Since then, all those Respect councillors have angrily quit the party claiming the charismatic Bradford MP has not allowed them to get on with the job of improving the city.
This time around the party is putting up another 10 candidates in wards where Labour have high hopes of winning.
Leeds' reverse bounce
Going into the 2010 general and local elections, Labour was the biggest party.
But an alliance of Liberal Democrat and Conservative councillors commanded a majority to run Leeds between them.
As the country concentrated on the Conservative gains in the parliamentary elections, Labour reversed that trend at a local level in Leeds.
In what political scientists call "reverse bounce", local voters backed Labour candidates and dumped the alliance of Liberal Democrats and Conservatives.
Since then the left wing party has strengthened its majority and expects to continue that trend this time.
No overall control
If Calderdale and Kirklees councils were parliamentary constituencies they would be a "three way marginal", with Labour, Conservative and Liberal Democrats swapping the keys to the leaders' offices in Halifax and Huddersfield on a regular basis for the past decade or so.
Technically, they go into these elections as councils with "no overall control", but Labour is the biggest party in both and runs them as minority administrations.
To gain a full majority Labour needs to gain another three seats in Kirklees and five in Calderdale.
With a third of both councils up for election this time around that ambition is achievable, but it is a tough target.
Challenges to Labour
The Greens have some of their strongest pockets of support in West Yorkshire with councillors in Bradford, Calderdale, Kirklees and Leeds.
It is putting up substantial numbers of candidates and is eyeing the crumbling Liberal Democrat vote to strengthen its hand.
The UK Independence Party has not won a seat in West Yorkshire so far, but is fielding more candidates than ever before.
And the Trade Unions and Socialists Against Cuts campaign (TUSC) says it is mounting the biggest challenge to Labour from the left in sixty years by putting up candidates in a third of all seats across West Yorkshire.