Ann Maguire stabbing: School heads pay silent tribute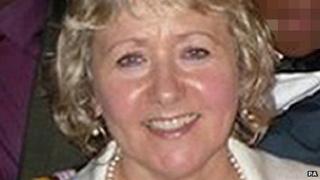 Head teachers have held a minute's silence for teacher Ann Maguire, who was stabbed to death in front of her pupils at a school in Leeds.
Mrs Maguire, 61, was attacked in a classroom at Corpus Christi Catholic College on Monday.
About 300 members of the National Association of Head Teachers (NAHT) took part in the silent tribute at their annual conference in Birmingham.
A 15-year-old boy has been charged with Mrs Maguire's murder.
The boy, who cannot be named, is due to stand trial in November.
'Remarkable service'
Outgoing NAHT president Bernadette Hunter asked delegates to pay tribute to Mrs Maguire's 40 years of service, describing her as a "dedicated, inspiring and caring teacher who was loved by so many".
Delegates stood and bowed their heads for the minute's silence and applauded at the end.
Afterwards, Mrs Hunter said the NAHT's conference would celebrate "the wonderful work of teachers and head teachers and the remarkable service our profession has given to this country".
A conference resolution noted Mrs Maguire's death "with great sadness".
It added: "The attack was unprecedented. Schools across the country are generally very safe places to work and learn in every day."
The resolution, which was backed by union members, went on to say the NAHT should ensure "that the very positive behaviour, that is the norm in schools, is celebrated".
Book of condolence
Mrs Maguire, who taught Spanish, was due to retire in September.
She lived in Moortown, Leeds, with her husband, Donald. The couple had two daughters, Emma and Kerry.
The Pope, Prime Minister David Cameron and opposition leader Ed Miliband have all paid tribute to Mrs Maguire.
Hundreds of floral tributes have been laid outside the school by current and former pupils since Monday.
Meanwhile, a book of condolence for Mrs Maguire had been opened at Leeds Cathedral, the Roman Catholic Diocese of Leeds said.
A letter had been sent to all churches in the diocese asking for prayers to be said for Mrs Maguire, her family, the college and the local community, a diocesan spokesman said.