Garforth fatal house blaze treated as arson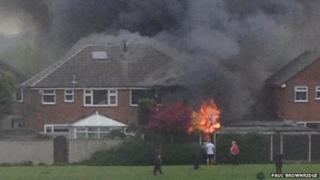 A house blaze that killed two people in Leeds is being treated as arson.
The fire broke out in Garforth on Tuesday evening. A woman died at the scene and a man died later in hospital.
Neither has been officially named following the blaze in Farfield Court, just after 18:30 BST.
West Yorkshire Police said the cause of the blaze was being treated as suspicious, but they were not not looking for anyone else in connection with the investigation.
The initial call to the emergency services reported a "fire, possibly an explosion". Four fire crews were sent to the scene and managed to contain the spread of the blaze.
Neighbours were evacuated from their homes and the gas board attended the scene.
Eyewitness Steve Bradley said: "I first saw the people rushing down our street.
"I saw what I thought was the garage at the back on fire, then all of a sudden you could see it was the house.
"The smoke that was coming out was unbelievably black. Then one of the windows blew out.
"It looked like roaring gas flames coming out of the window and with that, the fire engines started arriving, fortunately.
"I've never seen anything like that in my life before."
Det Ch Insp Jon Morgan said: "We are treating this incident as suspicious, however; we are not looking for anyone else in connection with this enquiry.
"Whilst we are not in a position to release the identifications of the deceased, I can confirm that they are the male and female occupants of the address.
"We continue to liaise with fire investigators as well as the coroners office."