Airline cuts Leeds Bradford Airport to Pakistan route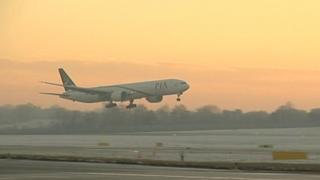 Pakistan International Airlines (PIA) is to close its service from Leeds Bradford Airport to Islamabad following claims the route is uneconomic.
The twice weekly flights will end in May with the airline adding an extra flight from Manchester Airport.
PIA said "this decision has been taken due to heavy losses being incurred on this route".
Tony Hallwood, the airport's aviation development manager, described the closure as "very disappointing".
Mr Hallwood said he was surprised at the decision, claiming that the airport's own figures showed the two flights were the "fastest growing of PIA services in the UK at present".
'Significant demand'
He said: "We know the figures and we have shown that our passenger growth over the last 12 months has been around about 30% and, in certain months, higher than that.
"Which clearly shows there is significant demand."
The airline started the flights six years ago, just after the airport was privatised.
A PIA spokesman said: "Despite our best efforts, the route's economics have not been very promising.
"The major reason behind this rationale is very high operational costs due lack of fuel-efficient aircraft."
The airline said it would be using a different aircraft on the Manchester route which was more fuel efficient and carried more passengers.
Mr Hallwood said he hoped PIA would reverse its closure plans and introduce newer, more cost effective aircraft to Leeds.
"However, if they [PIA] find it impossible to resurrect those services then of course we will look to introduce other services with other carriers at the earliest opportunity," he added.