Ex-JJB Sports boss Sir David Jones 'had gambling debts'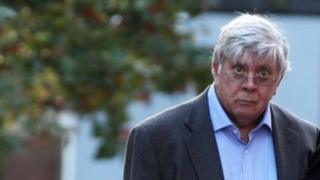 Retail mogul Sir David Jones was heavily in debt, "possibly due to gambling", Leeds Crown Court has heard.
The ex-boss of JJB Sports is accused of making false statements to the market in relation to two £1.5m loans.
Sir David, 71, of Ilkley, West Yorks, denies two counts of making a misleading statement, contrary to the Financial Services and Markets Act.
He also denies one count of using a false instrument, contrary to the Forgery and Counterfeiting Act.
The charges relate to a period in 2009 when he became executive chairman of JJB Sports.
The jury heard he had borrowed from two other well-known retail figures - Mike Ashley, the Newcastle United owner and Sports Direct founder, and Dave Whelan, chairman of Wigan Athletic and the founder of JJB Sports, who subsequently left the business.
'Much acclaim'
Sir David sat in the dock supported by his son, Stuart, who is also on trial.
Stuart Jones, 39, of Bingley, West Yorkshire, denies one charge of aiding and abetting his father's use of a false instrument.
Prosecutor Miranda Moore QC said Sir David had been given "much acclaim, quite rightly, for turning around the fortunes of Next".
She said Sir David was appointed by a board who must have thought he would be a "good man at the helm".
"Unfortunately, what the board of JJB did not know was that Sir David Jones was heavily in debt, possibly due to gambling, and he would, just after his appointment, take out substantial loans from two people who could be regarded as JJB competitors."
The jury heard Sir David has Parkinson's disease and, because of his involuntary movements, the court would be sitting unusually short hours for the duration of the trial.
The case was adjourned until Wednesday.