Charles Dye jailed for decade of child sex abuse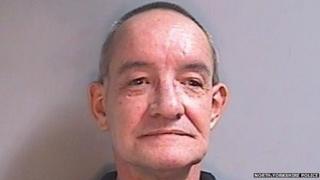 A former factory worker has been jailed for eight years for sex crimes against seven boys aged between four and 15.
Charles Dye, 53, from Leeds, was sentenced at Teesside Crown Court after being found guilty of 23 charges of indecent assault and gross indecency.
The offences took place in Selby, Leeds, Nelson and Colne between 1979 and 1990, the court heard.
Dye's crimes came to light when one of his victims contacted North Yorkshire Police in January 2012.
The investigation that followed uncovered a further 22 offences.
'Arrogance and contempt'
The jury at his trial heard Dye targeted his victims by either befriending their families and babysitting for them, or by gaining the trust of children who were playing in the street before abusing them.
Sgt Carol Kirk, from North Yorkshire Police, said Dye was a predatory paedophile who "abused his victims' and their families' trust in the worst way possible".
"He showed arrogance and contempt for what he had done right up until his trial, forcing his victims to relive their distressing ordeals in court."
In a statement following Dye's sentencing, one of his victims said the abuse he had experienced had "hung from my back like a bag of bricks for most of my life".
Another said the mental effects of this sort of crime could not be overestimated.
"I believe no jail sentence will fully compensate me, but the sentence given will help hugely towards dealing with the emotional healing and give me some degree of closure," he said.
Dye, of Shakespeare Grange, was also placed on the sex offenders register and will be the subject of an indefinite sexual offences prevention order, meaning he will be monitored on his release from prison.