Henry Moore's Castleford birthplace gets blue plaque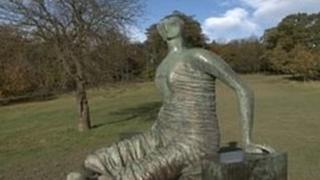 The birthplace of influential sculptor Henry Moore in West Yorkshire is to be commemorated with a blue plaque.
The plaque is to be on Henry Moore Square, off Roundhill Road in Castleford, close to where the artist was born in a terraced house in 1898.
After fighting in World War One he taught at Castleford Grammar School and began studying art.
Moore became famous for his monumental abstract sculptures and reclining bronze figures. He died in 1986.
He was awarded the International Prize for Sculpture in 1948.
His sculptures can be seen at the nearby Yorkshire Sculpture Park, Wakefield, in the Henry Moore Institute in Leeds and in other galleries around the world.
Councillor Denise Jeffery of Wakefield Council said: "Henry Moore's work reflects Castleford, where he was born and grew up, so we are very proud to mark this birthplace."