Leeds club's sexually explicit student night adverts banned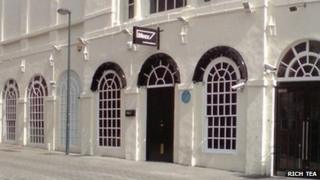 An advertising regulator has banned adverts by a Leeds nightclub promoter after the city council complained they were sexually explicit.
The promotional material for a student night at the city's Mezz bar featured "women in various states of undress", according to the Advertising Standards Authority (ASA).
It upheld six out of seven of Leeds City Council's complaints.
The event's promoter, Tequila UK, has not commented on the ruling.
The council claimed online material published by Tequila UK breached ASA's advertising codes, by containing nudity and "sexually suggestive language and imagery and profanity." as well as encouraging "excessive consumption of alcohol".
The authority also claimed the adverts could be seen by people aged under 18.
'Harmful advertising'
In its defence, Tequila UK said it "accepted that some ads contained sexually suggestive language but believed that was not likely to cause offence".
It also said it had modified the adverts and videos to remove images of drinking and claimed the material was not targeted at under 18s.
The watchdog said: "The ads must not appear again in their current form."
In December, Leeds City Council suspended the Mezz bar's licence following "a large number of complaints".
Labour councillor Graham Hyde, acting chair of the council's licensing committee, said: "This ruling should serve as a warning to other club night organisers that we will take action if we feel that the public is being subjected to offensive and harmful advertising in our city."