Women bishops: Yorkshire diocese first to vote for fast-track scheme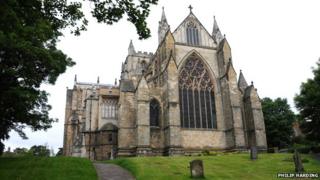 Yorkshire has become the first place to vote for women to become bishops by the end of the year, the Diocese of Ripon and Leeds has said.
Members of the Diocese of Ripon and Leeds met in Harrogate on Saturday to discuss the issue.
They backed the legislation, with 72 out of 75 members voting in favour.
In February, the Church of England's general synod voted to cut the time taken to consult all 44 dioceses on the issue.
Now instead of taking six months, all dioceses are being asked to vote within three months, by 22 May.
The fast-track move could lead to final approval of the legislation on women bishops in July, and it could come into force by November.
York debate in July
Bishop James Bell, who proposed the motion at the Diocese of Ripon and Leeds meeting at St Aidan's High School in Harrogate, said: "This contains a simple measure to enable the ordination and consecration of women as bishops.
"Every diocese in the country has been asked to vote for or against the same motion."
Providing the majority of dioceses approve it, the General Synod will hold the final debate when it meets in York in July.
In February, the Right Reverend Nick Baines was nominated as bishop of Leeds, overseeing the new Diocese of West Yorkshire and the Dales.
It will be the largest Church of England diocese in the country and will replace the dioceses of Bradford, Ripon and Leeds, and Wakefield on Easter Sunday.