Batley and Spen MP Mike Wood to stand down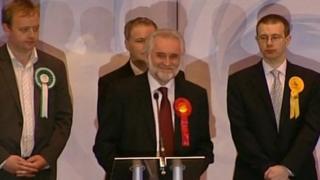 The Labour MP for Batley and Spen has confirmed he will not stand for Parliament at the next General Election.
Mike Wood was first elected for the West Yorkshire constituency at the 1997 election.
In 2010, he retained the seat for Labour with a majority of 4,406 over the Conservative candidate.
Mr Wood said it had been a difficult decision but after 18 years as an MP he believed the "time was right".
"It [the decision] will allow the Labour party to find a new, younger candidate to carry on the work here," he said.
"I want to be absolutely clear that I am standing down not winding down.
"My staff and I will continue to work and fight for local people as we have always done right up to the day of the next General Election."
The local Labour party will now begin the process of selecting a new candidate to fight the next election in 2015.
Ken Lowe, chair of the Batley and Spen constituency Labour Party, said Mr Wood had been a "fantastic" MP and would be a "hard act to follow".