Calderdale Council accepts coalition's changes to budget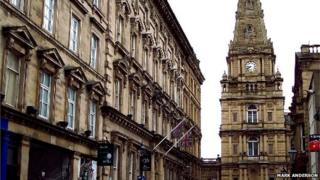 A West Yorkshire council is to run under the opposition's terms after the coalition passed an alternative budget.
Unhappy with Labour's budget, Lib Dems and Conservatives at Calderdale Council united for an amended proposal, which was passed on Monday night.
The revised budget includes a council tax freeze, school renovation work and the reversal of new car parking charges.
The authority has had to make £56m in savings between 2010 and 2014.
Labour council leader Tim Swift said a trade union representative would no longer be funded at the council and replacement wheelie bins will now be charged for.
The revised budget also includes more road sweepers and new measures to deal with litter and dog fouling.
Calderdale Council serves Brighouse, Elland, Halifax, Hebden Bridge, Sowerby Bridge and Todmorden.
'Difficult changes'
Mr Swift said the changes were accepted after a vote in favour of the coalition budget was won by 26 to 23.
"The question is whether the new budget allows us to carry on delivering what we want to see in Calderdale, and we believe it does," Mr Swift said.
"On a council with no political majority, it happens from time to time that you don't get your way on every decision."
The coalition budget also proposed cutting sick pay for council employees during the first three days absence because they said it encouraged staff to take more days off but Labour upheld a decision to keep it.
"The sick pay proposal would have immediately put the council into dispute with trade unions and staff," said Mr Swift.
"We've already asked them to accept some really difficult changes and we felt losing sick pay was a step too far."
The council is made up of 21 Labour councillors, 17 Conservatives, 11 Liberal Democrats and two independents.