Pianist John Briggs 'kept legal gay porn at East Morton home'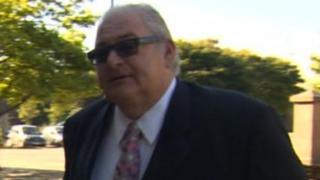 An internationally renowned concert pianist accused of indecent assaults on five boys has told his trial he kept legal gay porn DVDs at his home.
John Briggs denies assaults on boys aged 10 to 15 between 1969 and 1993.
Bradford Crown Court has heard the alleged victims were sea cadets and boys having piano lessons.
Mr Briggs, 65, of Little Lane, East Morton, in West Yorkshire, said he had been happily married for 25 years but had developed homosexual tendencies.
Giving evidence in his defence he said he had discovered the tendencies in the past decade and said his wife knew of them but probably had not known about the DVDs.
Mr Briggs told the jury his motto was "look, don't touch".
He said he had been afraid of Aids and that was why he kept the DVDs to look at occasionally, in what he said was a small part of his life.
The court has heard two of the alleged victims were boys he gave piano lessons to at his home and the others were members of Keighley Sea Cadets, where Mr Briggs was president at the time and for which he received an MBE for his fundraising activities.
The musician denies committing any acts against boys and told the court the boys made up the allegations in a vindictive campaign against him and there was not a shred of truth in them.
Mr Briggs denies nine counts of indecent assault and one of indecency with a child. The trial continues.