Leeds City Council seeks traveller ban from 'sensitive sites'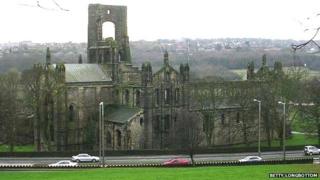 Travellers in Leeds face a ban on setting up encampments on land deemed to be environmentally sensitive, Leeds City Council has warned.
The council said it had applied for a "wide-ranging" injunction to forbid encampments on six sites in the city.
The areas identified were Roundhay Park and Soldiers Field, Holbeck Moor, Gassy Field, Wykebeck Valley, Kirkstall Abbey and the John Charles Centre for Sport.
All these sites had "suffered" due to previous encampments, the council said.
Councillor Peter Gruen, from Leeds City Council's executive board, said if the injunction bid was successful, it would "send a clear message that unlawful encampments will not be tolerated".
"The encampments tend to cause disruption to local people and incur a cost to the council with the tidying up and court fees associated with moving people on.
"We want a more robust solution to tackling unlawful encampments in these very visible and well-used locations."