Kirklees Council to cut jobs and freeze council tax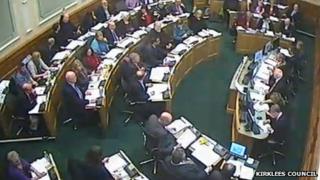 Councillors in part of West Yorkshire have voted to freeze council tax.
Labour-run Kirklees Council agreed to accept a government grant of £1.6m to keep the average Band D council tax bill at £1,438.
But in an effort to save £21m from the 2014/15 budget 197 jobs will be lost from a workforce of 12,112, mainly through changes to adult services.
The authority will also introduce an annual charge for residential parking permits.
At a meeting of full council, broadcast on its website, council leader Mehboob Khan said: "Local government faces its biggest challenge ever.
"By 2017 Kirklees Council will have been reduced by a massive £129m."
Mr Khan said the £318.4m budget placed "those who need the services most as our highest priority".
But leader of the opposition Conservative group, Councillor Robert Light, said the plan was a "shambles", describing it as a "one-year stop-gap budget".
Labour's budget was voted through with some concessions to the Green and Valley independent group by 32 votes to 28.
The council said it had saved £63m between 2011-2014 and needed to save another £66m by 2017.