Pianist John Briggs 'sexually assaulted' pupils and sea cadets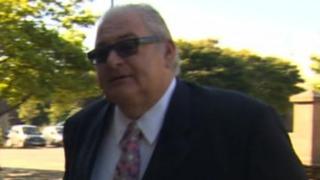 A renowned concert pianist sexually assaulted two music pupils and filmed youngsters he abused from a sea cadet unit, a jury has heard.
John Briggs, 65, from East Morton near Keighley, West Yorkshire, denies nine counts of indecent assault and one of indecency with a child.
The youngest boy was 10 years old at the time of the alleged offence.
Bradford Crown Court heard Mr Briggs was accused of carrying out the offences between 1969 and 1993.
'Very famous'
On the first day of the trial, Nicholas Worsley, prosecuting, said the defendant sexually assaulted a piano student in the late 1970s when the boy was about 14 or 15 years old.
Mr Worsley said: "[The boy] was very proud to be taught by Briggs.
"He was well known at the time, very famous at the time."
Mr Worsley said the boy went to his teacher's home expecting to be given a "masterclass", but Mr Briggs took off a dressing gown to reveal he was naked, then abused him.
The court heard the boy ran home and spoke to his mother but "nothing was ever done about it".
Mr Worsley said: "Briggs subsequently got in touch with [the boy's] parents and said that their son had no talent whatsoever and would never amount to anything as a musician."
'Vicious conspiracy'
In a separate incident, Mr Briggs filmed a sea cadet during an assault and gave him £80 to appear on camera, the court heard.
Mr Worsley said the defendant also filmed another cadet, when he was president of the Keighley Sea Cadets.
The jury heard Mr Briggs denied all the offences when he was interviewed by police and said it was a "vicious conspiracy against him".
The prosecutor said the former music pupils came forward after Mr Briggs was arrested and charged in connection with the allegations relating to the sea cadets.
The trial continues.