River Holme in Brockholes runs orange with iron deposits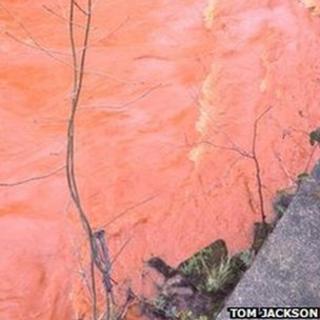 A river has been turned orange after iron deposits were washed out from a disused mine by rising water levels.
The River Holme in West Yorkshire has been discoloured by the deposits, the Environment Agency said.
Tom Jackson, who works overlooking the river in Brockholes, near Huddersfield, said he had "never seen the river that bad, it is quite orange".
An agency spokesman said they were aware of the situation but it was "natural and not harmful".
He said the deposits had flowed out of an abandoned mine near Holmfirth and it would look "quite impressive for a few miles downstream".
The agency would take no action and the colour would disperse in due course although it could reach the River Calder, he added.
Mr Jackson, a logistics manager, said discoloration of the river had happened before but he had photographed it due to the current particularly vivid colour.