Sajid Saddique's 2007 disappearance now murder case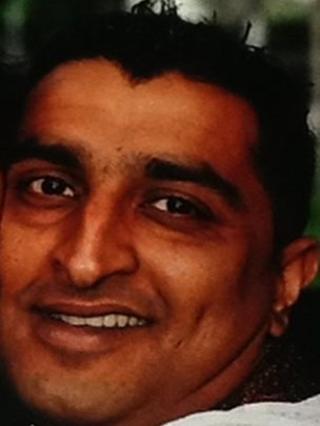 A murder investigation has been opened into the disappearance of a man seven years ago.
Sajid Saddique, from Allerton, Bradford, has not been seen since the morning of 14 February 2007 when he attended a business meeting.
West Yorkshire Police said new evidence had come to light which suggested he had been murdered.
A 62-year-old man and a 45-year-old man have been arrested on suspicion of perverting the course of justice.
The two arrested men, from Bradford and Halifax, are in custody, police said.
'Massive shock'
Asma Razaq, Mr Saddique's wife said: "I felt like something was wrong straightaway when he didn't come home.
"I knew in my heart something terrible had happened. It was a massive shock to hear it had been confirmed."
Det Insp Steve Snow said: "I believe there are people out there (who) without a doubt know what happened to Sajid and in fact where Sajid's body was taken following the murder."
Mr Saddique was last seen in the Asda car park in Manor Road, Shipley, at about 10:00 GMT that day in 2007.
He had been wearing a distinctive, diamond-encrusted Cartier watch.
Det Insp Snow said: "Regardless of how long this investigation lasts, we are committed to establishing the truth of what happened."