Yorkshire farmers donate flood aid to Somerset farms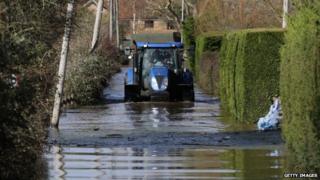 Farmers in Yorkshire have donated animal fodder and bedding to flood-hit farms in Somerset.
Two tractors pulling trailers loaded with 15 tonnes of silage, hay and straw will leave from Wakefield, West Yorkshire, for Bridgwater in Somerset on Thursday.
The aid has been organised by Philip Rowbottom from the Wakefield branch of the National Farmers Union (NFU).
He said the response from the local farming community had been "amazing".
"We deliberately wanted to take the donations by tractor and trailer to help highlight the plight of farmers so desperately in need on the Somerset Levels," he said.
'We know the heartbreak'
Mr Rowbottom and his neighbour, Andrew Nicholson, who runs an agricultural contracting business, will drive the tractors on the 225-mile (362km) trip to Somerset.
He said the fact Mr Nicholson had "offered to accompany me with a second load is superb as it means we will be able to take everything donated so far".
"Hopefully our journey will help highlight the solidarity we all feel with those farmers in Somerset who are facing such tough times," he said.
"Yorkshire has had its fair share of severe flooding, so we know only too well the heartbreak it can bring."
Melanie Squires, from the NFU in the south-west, said support for flood-hit farmers had been "immense" and that those who were being helped by the donations "could not be more grateful".