First unveils alternative trolleybus scheme for Leeds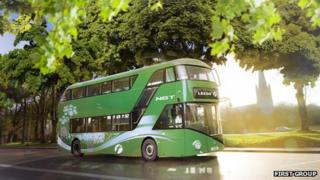 Transport operator First has unveiled alternative plans to Leeds' controversial trolleybus scheme.
The private firm proposes 200 new buses and an Oyster Card-style payment system to speed up journeys.
It says the project would be cheaper than transport provider Metro's proposed £250m trolleybus scheme.
That proposal includes a nine-mile route running from the city centre to park-and-ride sites in the north and south of Leeds.
First's scheme will be outlined to the public inquiry later this year that will decide the fate of the city's public sector-backed trolleybus plan.
Dave Alexander, regional managing director of First in the North of England, said: "A common objective between First, the council and Metro is for Leeds to have a radical improvement in public transport that enhances its image and boosts its status.
"We are concerned that the trolleybus scheme will not achieve this.
"On the other hand, [our scheme], combined with other measures, will bring radical improvements to far more passengers, in a much shorter time and with huge savings to the public purse compared with the trolleybus proposals."
'Scheme doesn't deliver'
First's proposals are modelled on London's Routemaster double-decker buses with more than one door for boarding and alighting.
It also includes cashless ticketing to cut waiting times at bus stops.
But Metro chairman Councillor James Lewis said First's plan failed to tackle the problem of congestion in the city.
He said: "First can deliver new vehicles tomorrow and I would welcome it, but they have failed to set out how they would deal with congestion and how they would put in the infrastructure to make transport run freely.
"I give them two out of 10 for the idea [because] so far they have not actually delivered anything."
Metro's plans were submitted for government scrutiny in September and will be considered at the public inquiry.
Objectors have criticised the scheme's value for money and the impact on the environment.
If the scheme receives final approval, work could start in 2016 and be completed by 2018.