Leeds City Council to cut 200 jobs to make £50m budget savings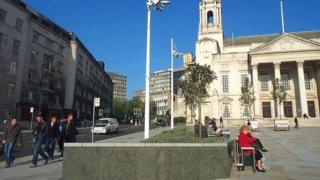 Leeds City Council is to cut 200 jobs as it seeks to make budget savings of £50m in the next year.
Council tax is also planned to rise by 1.99% after a three-year freeze and council house rents by 5.9%, the council announced.
More than 1,800 jobs have been lost in the past three years, it added.
Councillor Keith Wakefield, leader of the Labour-run council, said: "We have to face the hard facts to keep the city financially healthy."
Vulnerable people continued to be the priority and limited resources would go into adults' and children's social services, the council said.
'Hopeless position'
The city's 57 children's centres have been protected through finding efficiency savings, according to the council.
By 2017-18, funds for local government in Yorkshire would have been cut by "about £502 per person, compared to £352 per head in London", it added.
Brian Mulvey, secretary of Unison's Leeds branch, said: "The council is in a hopeless position and has made huge cuts already.
"We would resist compulsory redundancies, should it come to that. We are not prepared for any further erosion of our terms and conditions."
Mr Mulvey said he blamed the government entirely for the cuts and the time had come to "draw a line in the sand".
A spokesman at the Department for Communities and Local Government said: "The coalition government has delivered a fair settlement to every part of the country - north and south, rural and urban, metropolitan and shire.
"There is still immense waste across the public sector."
The budget recommendations are to go to Leeds City Council's executive board on 14 February and the full council on 26 February.