Dog groomers using Wakefield bus station baby-changing area face ban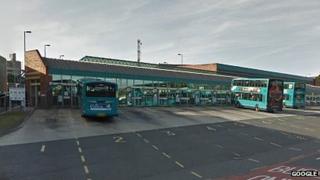 Dog owners caught grooming their pets in the baby-changing facility at a bus station have been told they could be barred from the site.
A notice at Wakefield bus station warns "perpetrators will be dealt with under anti-social behaviour rules, which carry the ultimate sanction of a ban".
Parents have condemned the practice as "appalling" and "disgusting".
Station manager Mary Lowrey said it had "occurred on a few isolated occasions" and "the misuse has [now] ceased".
In the notice, Ms Lowrey wrote: "I know I am addressing a minority of people and do not wish to offend our vast majority of users, but it has come to my attention that these facilities are being abused by some... for dog grooming purposes."
"I regret having to make this point, but facilities for babies and disabled customers must be respected."
Wakefield Bus Station is owned and operated by Arriva.
Brian Wheelhouse, who runs Wakefield's Whitehall Dog Rescue said there was "a time and a place for everything and baby changing rooms are not the place to groom your dog".