Leeds Arena: Jan Fletcher wants to reach settlement, court hears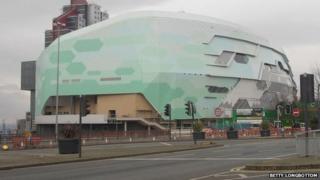 A businesswoman, ordered to pay a council £2m in costs after losing a court battle, is prepared to reach a settlement, a court has been told.
Jan Fletcher's firm Montpellier Estates Ltd lost a bid for damages against Leeds City Council over a bid to develop Leeds Arena.
A bankruptcy hearing at Harrogate County Court was adjourned for 14 days after hearing an offer would be made.
The council said it was willing to listen to a "credible" offer.
The argument between Ms Fletcher and Leeds City Council dates back to 2008 when the authority cancelled a tendering process and decided to build the arena, which opened last year, itself.
Harrogate-based Montpellier Estates, which had proposed an alternative site, claimed it had been deceived into entering and remaining in the competition to develop the arena.
Ms Fletcher took the council to court for damages but the High Court ruled in the council's favour.
She was ordered to pay £2m in interim costs last October but failed to do so - which led to the authority launching a bankruptcy petition.
A spokesman for Leeds City Council said: "We are determined to pursue recovery of the very significant costs to us of defending this case and will look at any offer very closely to see if Ms Fletcher can come forward with credible proposals for meeting her debts to council taxpayers in Leeds."
Ms Fletcher could not be reached for comment.