Leeds Flood Alleviation Scheme work starts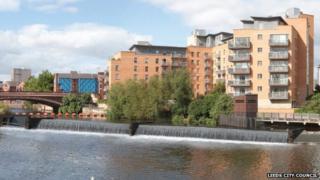 Work has begun on £50m of flood defences to protect 3,500 homes and businesses against a one-in-75-year flood on the River Aire near Leeds.
The first phase, involving the construction of an embankment, flood walls and storage pond at Woodlesford, should be completed by July.
It would give residents unprecedented levels of protection, the council said.
It added that the scheme would include the UK's first moveable weirs which can be lowered to reduce river levels.
The moveable weirs, which will be installed at Crown Point and Knostrop, consist of a row of steel gate panels supported on their downstream side by inflatable air bladders.
Island removed
Councillor Richard Lewis said: "These works in Woodlesford need to be carried out first to make improvements as quickly as possible.
"This will begin the process to provide the residents and businesses in that area with a level of protection and reassurance they have never had before."
The Leeds Flood Alleviation Scheme will also see an island at Knostrop Cut removed to allow the river and canal to merge to create additional flood water storage.
Low-level flood defences in the city centre and Holbeck are also to be constructed.
Work here is due to start this summer and be completed by the end of 2016, the council said.
The worst River Aire flood recorded was in 1866 when water 3ft (1m) deep ran down Kirkstall Road into the city.
The largest recent event was in 2000 when water levels came within 4ins (10cm) of flooding the city centre.
There have been smaller floods in 2002, 2004, 2005, 2007 and 2008, according to the council.