Todd brothers spared jail over illegally dumped recycling waste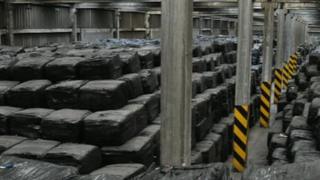 Two brothers who ran a Yorkshire recycling company have been given suspended jail terms for dumping rubbish in Leeds and Goole.
Jamie Todd, 33, and Thomas Todd, 24, both of Leeds, admitted nine offences each at the city's crown court.
Charges were brought after the Environment Agency investigated Leeds Paper Recycling Ltd in 2012 following complaints of smells and flies.
The court was told the brothers had stashed the waste to save the business.
Jamie Todd, of America Moor Lane, was given a six month jail term, suspended for 18 months, and ordered to carry out 180 hours of unpaid work, while Thomas Todd, of Littlemoor Gardens, was handed 18 weeks in prison, suspended for 18 months, and told to do 140 hours of unpaid work.
'Endless advice'
The Environment Agency (EA) said the waste was to be turned into "refuse-derived fuel" but when this was not possible, it was kept without a permit at Knostrop Depot at Hunslet in Leeds, and Goole Docks.
Despite warnings, the EA said the waste pile at Knostrop grew from 209 bales in January 2012 to 11,500 in May, while a further 4,000 bales, including paper, plastic and carpet, were found at Goole Docks.
The company, which employed 250 people, went into liquidation in April 2013.
Judge Neil Clark told the court that Jamie and Thomas Todd were "caught in the horns of a dilemma", but "buried their heads in the sand" in an effort to save their family business.
The EA's Ian Cowie said the dumping was "a mess - piles of bales were leaking, there was an awful odour, thousands of flies, and an abattoir nearby".
"In their eyes, they had a business to run but we gave them endless advice on how to do it properly and they just wouldn't listen."