John Harrison clock in Leeds museum display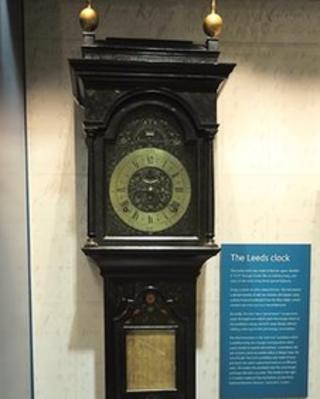 An 18th Century clock which played a major role in calculating longitude at sea has gone on permanent display at Leeds City Museum.
Clockmaker John Harrison helped solve the problem of accurate timekeeping on lengthy voyages with his research.
The longcase clock No 2 helped him produce a watch which could accurately maintain time at sea.
The clock will form part of the museum's John Harrison, the clockmaker who changed the world display.
Councillor Lucinda Yeadon, Leeds City Council's executive member for leisure and skills, said: "Accurately determining longitude at sea was a question that baffled scientists and experts for many centuries.
"This new exhibition will enable visitors to see one of John Harrison's precision pendulum clocks that played a valuable role in helping to solve the problem."
Harrison developed highly accurate timepieces as part of a competition run by the British Admiralty to provide an accurate method of navigation for naval ships.
The clockmaker, who was born in Foulby, Wakefield, eventually produced an accurate watch in 1759, which could withstand the motions of a ship at sea in all temperature conditions.