Arrests over Leeds Grand Theatre fraud investigation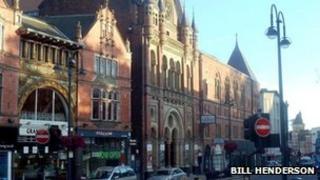 Three people have been arrested over allegations of fraud at a theatre in Leeds.
A report put to councillors in Leeds said "potentially fraudulent creditor payments" had been found at the theatre, understood to be the Leeds Grand Theatre.
The findings of an audit investigation were passed to police resulting in the arrest of two men and a woman.
The theatre was built in 1878 and is under council control.
Det Insp Marc Bowes of West Yorkshire Police said: "We began an investigation into allegations of fraud last year after information was passed to the police by Leeds City Council.
"Three people have been arrested in connection with the investigation and are currently on police bail pending further enquiries."
Although the arrests were made last summer, they have only just been revealed in a report to the authority's corporate governance and audit committee.
The report said the audit had "identified potentially fraudulent creditor payments at the partner organisation".
A spokeswoman for the council said it could not comment further as there was "currently an ongoing police investigation".