Pony impaled on Bradford street fence rescued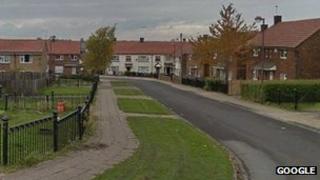 A pony which was impaled on a fence in a Bradford street has been rescued by fire crews.
Fire fighters went to help the animal after being called to Denbury Mount, Holmewood, at around 23:15 GMT on Sunday.
Crews used hydraulic cutters to free the pony from a 3ft (90cm) metal fence.
A West Yorkshire Fire Service spokesperson said once freed, the RSPCA took the pony away for treatment to "superficial" injuries.
Specialist technical officer Ian Thompson said that the animal had attempted to leap two fences bordering a pathway to a house.
He added that due to the fence being "higher than the length of its legs, [it had] come down and got its belly caught on the railings".