Halifax Piece Hall closes for renovation work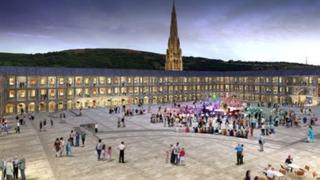 The Piece Hall in Halifax has closed to allow preparation work ahead of a £19m refurbishment scheme.
Calderdale Council said the two-year project would restore the 18th Century building and add an extension and a new visitors' centre.
The Grade I listed building was opened in 1779 as a trading centre for locally woven cloth.
In the 1970s, it was converted into a tourist attraction with an art galley, museum and shops.
Some of the shops in the complex have closed or relocated.
Calderdale Council's leader, Councillor Tim Swift, claimed the refurbished building would be "a world class heritage destination".
"We're heading into an exciting new chapter for the Piece Hall," he said.
"And I'm really looking forward to seeing it reopen in spring 2016, with its state-of-the-art interpretation and learning centre, shops and businesses and beautiful courtyard."
Calderdale Council has contributed £10m towards the work with another £7m coming from the Heritage Lottery Fund.
A fundraising campaign is to be launched to secure the remaining £2m.
The renovated hall will be part of a larger "cultural quarter" in the town, with a new central library and arts centre.