Yorkshire ale on New York Times list for 2014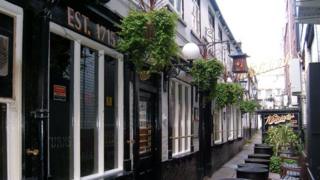 Yorkshire has been chosen as one of the world's top destinations by the New York Times - because of its beer.
The list puts the county at number 22 in its 52 places to go in 2014.
Yorkshire is sandwiched between the delights of visiting Lake Tahoe in California and Dubai on the list. Cape Town, South Africa is the top tip.
The newspaper told its readers: "The sprawling northern county of Yorkshire is becoming a big destination for beer lovers."
In the blurb for its travellers' list, the New York Times wrote: "Yorkshire has a photogenic (and historic) ale trail."
'Real ale peak'
One of Yorkshire's pubs named in the newspaper article is the Kelham Island Tavern in Sheffield, South Yorkshire.
Trevor Wraith, the pub's landlord, said: "Real ale is at a peak at the moment and we get a lot of beer tourists to Sheffield already, including a few American visitors."
The tavern is a traditional venue dating from 1830 in a building with low ceilings and a small bar.
"For me the story is to have a great selection of beer and knowledgeable staff but it boils down to two words, 'always quality'," he added.
'Passion for beer'
Sam Moss, of Leeds Brewery, said: "Historically Yorkshire had a lot of breweries, the renaissance in brewing is taking inspiration from that."
Mr Moss, a director of the brewery founded in 2007, said: "The county had heritage, tradition and passion for beer and that flows through the generations.
"The area's water plays a big part along with Yorkshire strains of yeast."
The business also owns a small network of pubs and is the West Yorkshire city's biggest brewery with 95 employees.
Samuel Smith, of Tadcaster, was established in 1758 and claims to be the oldest brewery in Yorkshire.
The county has 131 different breweries with 20 new breweries added in the last year, according to the Campaign for Real Ale's (Camra) Good Beer Guide 2014.
West Yorkshire alone has 57 breweries listed by the guide, the most for any county in the UK.
In October, Yorkshire was named the third best region in the world to visit in 2014, by travel guide company Lonely Planet.