Kirklees Council rejects Butterley Reservoir spillway plan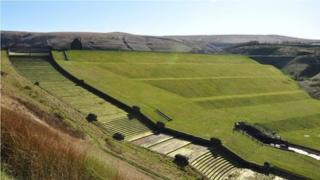 An application to reconstruct part of a Victorian reservoir in West Yorkshire has been rejected by councillors.
Butterley Reservoir's stone spillway, near Marsden, was built between 1891 and 1906 to cope with overflows during periods of heavy rain.
Yorkshire Water, which owns the reservoir, had applied to rebuild the spillway to make it "fit for purpose".
The company said it was likely it would lodge an appeal against the decision by Kirklees councillors.
The Grade II listed reservoir had been included on the Victorian Society's list of the 10 most endangered buildings in England and Wales in 2012.
The society wrote to the planning committee, urging councillors to reject the application on the grounds that the proposed alterations would result in the "total loss" of the reservoir's historical and industrial significance.
'Vital role'
Diane Ellis, from the Save Butterley Spillway campaign group, welcomed the decision by councillors.
"Yorkshire Water has not made a convincing case to justify the demolition of the spillway, which is a unique, listed, national heritage asset," she said.
Yorkshire Water had proposed replacing and raising the spillway's existing walls and reconstructing part of the cascade section, and council officers had recommended approval.
A spokesman for the company said: "We are already having to actively manage the volume of water held in the reservoir in the face of increased seasonal rainfall, and we need to upgrade the spillway because it plays a vital role in ensuring its safety when it is full.
"We will in all likelihood be lodging an appeal."