Bradford Royal Infirmary 'cannot provide safe care'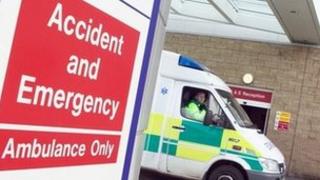 Bradford Royal Infirmary does not have enough staff to provide "safe and effective care", say inspectors.
The Care Quality Commission (CQC) said staff shortages, particularly in the accident and emergency department, had a direct impact on the hospital's ability to deal with patients.
It also raised concerns about the staffing skill mix in some areas.
The NHS trust said "robust action plans" had been devised to tackle the issues.
The CQC issued Bradford Royal Infirmary (BRI) with a formal warning after carrying out an unannounced one-day inspection in September and a follow-up inspection in October.
It found that, overall, the Bradford Teaching Hospitals NHS Foundation Trust was failing to meet four of the six national standards reviewed.
Poor record keeping
Inspectors found a shortage of senior level medical staff cover in A&E, particularly during the early hours, and said there were delays in assessing and prioritising people's injuries and illnesses due to "insufficient staff numbers".
A CQC spokesperson said: "The inspectors raised concerns that this was impacting directly on the trust's ability to provide safe and effective care that fully met patient's needs."
Other areas of concern included overcrowding in A&E and poor record keeping on one elderly care ward.
Roz Sanderson, from the CQC, said, however, that people should continue to use the BRI.
She said: "We've identified these failing, we've alerted the trust, the trust has supplied us with an action plan telling us how they are going to deal with these failings and they have implemented some of that already."
A spokesman for the trust said it took the concerns raised "extremely seriously" and had taken immediate steps to "significantly increase staffing levels" and put in place "robust action plans".
He said: "We would like to reassure patients that we have taken significant steps to immediately improve standards since the CQC inspection in October and we are confident that measures have been taken which allow us to continue providing safe and effective care that meets patients' needs."