Chris Ogden crushed in bin lorry after Huddersfield night out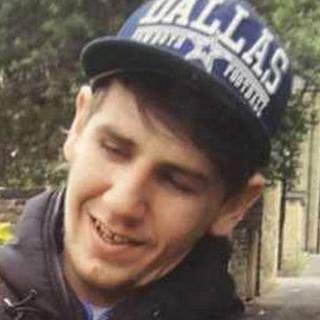 A man was crushed to death after climbing into a skip to keep warm following a night out in West Yorkshire, an inquest has heard.
Bradford Coroner's Court heard how Chris Ogden, 23, from Halifax climbed into the skip an hour before the bin lorry came to collect the rubbish.
Mr Ogden had smoked cannabis before going clubbing in Huddersfield in January 2013, the court heard.
A verdict of accidental death related to alcohol and drug use was recorded.
The court heard how Mr Ogden smoked four cannabis joints with a friend before their night out.
They then downed shots and went to a club, where Mr Ogden is said to have proudly shown people photos of his young son, the court heard.
He then fell asleep, rowed with bouncers and was eventually thrown out.
CCTV showed that Mr Ogden waited for an hour at Huddersfield bus station, which was closed, before climbing into the skip at 04:47 GMT on 25 January 2013.
An hour later, a bin lorry arrived to collect the skip and compressed its contents with the mechanical crusher.
'Bin men should check'
The court was told that Mr Ogden had probably fallen asleep and was crushed to death.
His body was discovered later that day when the waste was dumped on to a conveyor belt at Leeds Paper Recycling Centre on Valley Farm Road.
Pathologist Dr Richard Shepherd, who carried out the post-mortem exam, said the cause of death was traumatic asphyxia due to the lorry's compressor crushing Mr Ogden's chest.
Mr Shepherd said toxicology reports showed alcohol and cannabis in Mr Ogden's body, which may have delayed his response to what was happening when the skip was collected.
The family of Mr Ogden, who had a two-year-old son, were angry with the verdict and said it made him look like "a drug addict".
His brother, Philip Ogden, said bin men were supposed to check for rough-sleepers.
"I have worked for a bin company, and the rules were if it was a town centre and in the early hours we had to check them because of homeless people," he said. "Every time we came to a bin we had to check."
The bin lorry driver, Anthony Flynn, said he did carry out a visual check of the skip before it was emptied, but said it was only possible to see what was on top of the 8ft by 6ft skip.
West Yorkshire Police said it had found no evidence of criminal action or neglect by the bus station, recycling firm or bin lorry drivers.
Coroner Dominic Bell said he would ask the local council if bin men could check skips and bins for people sleeping inside.