Retiring West Yorkshire Police deputy chief walks the beat again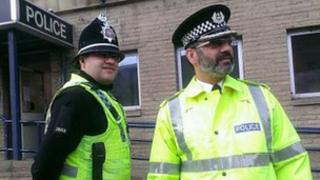 The retiring deputy chief constable of West Yorkshire Police has walked his original beat again with his police constable son.
Jawaid Akhtar joined the force as an officer in Huddersfield almost 32 years ago.
He rose through the ranks to become one of the most senior Asian officers in a British police force.
His son, PC Mohsin Akhtar, will retain his father's collar number after his retirement.
DCC Akhtar said that when he joined the force in 1982 there were few Black and Minority Ethnic (BME) officers.
The latest Home Office figures show that 5% of officers serving in West Yorkshire are BME.
Figures from the Office of National Statistics show the percentage of people in the county classing themselves as "non-white" is just over 18%.
'Nice reminder'
"You're self conscious that you are the only one, or one of two or three, over the first few years," said DCC Akhtar.
"Police officers delivering the service reflect the communities that we actually serve.
"Now, clearly 5% BME does not reflect the communities of West Yorkshire."
Over the years, DCC Akhtar has led investigations in a number of high profile cases, including the murder of three women in Bradford by student Stephen Griffiths who called himself the "Crossbow Cannibal".
More recently, he has been in charge of police counter-terrorism operations in North East England.
His 32-year-old son said he was proud that his father's collar number would remain in the family.
PC Akhtar said: "It's a nice reminder of my dad whenever I put my uniform on and have the numbers on my shoulder."