Woman gets message in a bottle reply after 23 years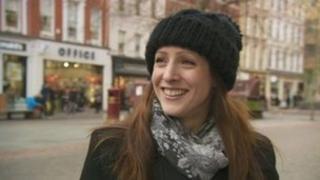 A woman who threw a message in a bottle into the North Sea more than 20 years ago has received a reply after it was discovered in the Netherlands.
Zoe Averianov, from Hebden Bridge, was 10 when she threw the note as she went on holiday on a ferry from Hull to Belgium on 12 September 1990.
Over Christmas she was given a letter sent from Europe which had been posted to her parents' address.
Ms Averianov said she was surprised at how far the message had travelled.
The envelope, addressed to Ms Averianov's maiden name, contained her original letter and a reply from a couple in the Netherlands.
Her letter had read: "Dear finder, my name is Zoe Lemon. Please would you write to me, I would like it a lot.
"I am 10 years old and I like ballet, playing the flute and the piano. I have a hamster called Sparkle and fish called Speckle."
The reply read: "Dear Zoe, yesterday on one of my many walks with my wife along the dikes of Oosterschelde looking among the debris thrown by the sea of embankment I found a little plastic bottle containing your message."