Report clearing Leeds boss of bullying a 'whitewash'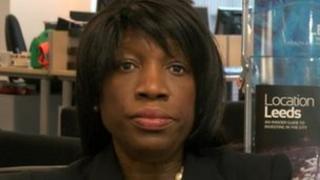 A report clearing a top Leeds chief executive of bullying former staff was a "whitewash", a union claims.
Leeds council, which finances Leeds and Partners, brought in an independent investigator who has not upheld claims of alleged bullying by Lurene Joseph.
This was despite the report stating her behaviour could be seen as "intimidating and persistent".
Both the firm and the council said there were lessons to be learned for both organisations.
The complaints were brought by six council staff who had been seconded to the firm set up to bring investment to the city.
The statement of grievance accused Ms Joseph, who has been in post since May 2012, of systematic and sustained bullying, victimisation and misuse of power.
'At a loss'
Leeds City Council agreed to bring in an independent investigator who carried out the inquiry, which found evidence of her shouting at staff and using inappropriate comments.
Chris Jenkinson, Unison's head of local government, said: "We were expecting this outcome and the report has just been accepted by the council.
"We think it's a bit of a whitewash."
Mr Jenkinson said the report found evidence that Ms Joseph acted in a way that her behaviour could be seen as "undermining, intimidating and persistent".
He added: "We are therefore at a loss to understand how the investigating officer concluded from her findings that the complaints were not upheld."
Andy Clarke, chairman of Leeds and Partners, said the firm had "inherited a number of challenges from the previous organisation" which had required "a period of intense change and strong, decisive action".
He added: "It is now apparent that this approach, combined with the pace of change, was significantly more challenging than first anticipated."
Leeds City Council chief executive Tom Riordan said: "The investigation was conducted by a specialist in such cases with a nationally acknowledged reputation and we accept her findings that the grievances have not been upheld.
"We will now move on, incorporating the lessons learned, to build on work already done to bring further jobs and investment to Leeds."