Flower box drugs man Johannes Elmendorp must pay £4.7m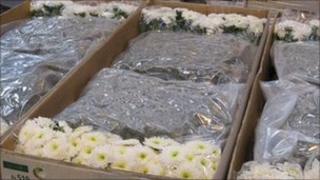 A man jailed for 18 years for importing cannabis hidden in boxes of flowers has been ordered to pay back almost £5m, West Yorkshire Police have said.
Austrian Johannes Elmendorp, 52, who was jailed in 2011, must pay £4.7m within six months, a confiscation order hearing at Leeds Crown Court ruled.
Failure to pay the money would add five years to his sentence, the police said.
The cannabis, with a street value of up to £150m, was brought into the UK during 2008 and 2009.
Elmendorp and two Dutchmen, who received shorter sentences, were jailed after a trial at Leeds Crown Court in 2011.
Police said they believed the gang organised a total of 102 deliveries to the UK with an estimated weight of 16.8 tonnes of cannabis.
The shipments were destined for Leeds, Bradford, Redditch or Birmingham, according to police.