Leeds City Council targets disabled space abuse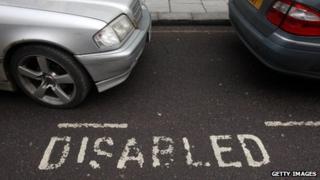 A council crackdown on drivers who misuse parking badges for disabled people has won praise from a charity.
Disability Motoring UK said it "applauded" Leeds City Council's decision to prosecute people who abuse the blue badge scheme in the city.
Since May, legal proceedings have been brought against 95 people.
Previously the authority issued warning letters to offenders, but has now taken the decision to immediately prosecute those breaking the rules.
Helen Dolphin, director of policy and campaigns at Disability Motoring UK, said: "When people know that nobody is going to enforce the blue badge scheme that's when they start thinking it does not matter if they borrow their grandmother's badge, or lend their badge to someone else.
"That's when it gets out of control.
"We really applaud councils like Leeds that actually take people to court.
"It is only when people see that it is possible that it makes them think twice about abusing the scheme."
Immediate prosecution
Figures released by the council show that between May and November, 20 people pleaded guilty to, or were convicted of, illegally using blue badges.
A further 19 cases were due to be heard in December and another 56 cases are in progress.
People found guilty face losing their blue badge and a maximum fine of £1,000.
Andrew Mason, the council's environmental health and parking manager, said the switch to immediate prosecution was made because the warning letters were "clearly not having the desired effect".
The council issued more than 700 letters between November 2010 and May 2013.
Blue badge holders can park free of charge and without time limit in on-street parking bays.