Calder Valley scheme 'not flood prevention on the cheap'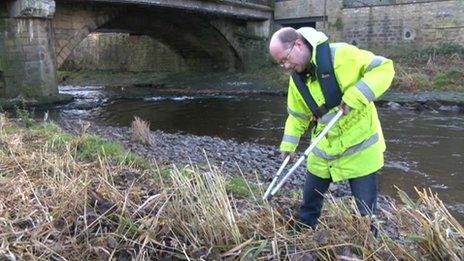 Volunteers are being drafted in to help contractors clear vegetation from the River Calder in a bid to reduce the risk of flooding.
Residents and businesses in Mytholmroyd have been told the move could prevent a repeat of the flash floods which hit the village in the summer of 2012.
The project is being funded by Calderdale Council in partnership with the Environment Agency.
But some local campaigners dismissed it as "flood prevention on the cheap".
Under the scheme, local people were invited by the council to attend training days earlier this month to learn about vegetation management and how to tackle invasive species such as Himalayan balsam and Japanese knotweed.
There will be more river stewardship days in the new year and there are also plans to roll out a similar scheme to communities in the upper Calder Valley from spring 2014.
Barry Collins, deputy leader of Calderdale Council and member for the economy and environment, said: "It is not cheap labour. This was local people's own idea and is an opportunity for the local community to get involved in the maintenance of their waterways.
"The removal of vegetation from the River Calder at Mytholmroyd is part of the council's ongoing works programme to reduce the risk of flooding.
"It's a real chance for residents and local businesses to help prepare for future flooding."
However, Barry Greenwood, of the Calder Valley Flood Action Group, said the project did not go far enough.
"This will be no help whatsoever, it won't make one iota of difference," he said.
"You need to get rid of all the shale and silt that has built up over the last 30 years and get the river back to the level it was at in 1960."
That approach has been rejected by the Environment Agency which says that dredging would be expensive and would bring few benefits.
Assessments carried out by the agency in Mytholmroyd after the severe floods in summer 2012 showed that keeping control of vegetation growth would reduce the risk of the river overtopping its banks.
However, it said the study also showed that removal of gravel from the river bed in the area near New Road Bridge would not decrease the risk of flooding.
Susan Haymer volunteered to take part in a river stewardship session earlier this month.
She said: "I work full time but I've got the day off work so I can come down here and make a difference to flood alleviation.
"In June 2102 this area was severely flooded, damaging most of the businesses along there, partly because the river is very clogged up by silt and vegetation."
Related Internet Links
The BBC is not responsible for the content of external sites.