Commemorative walk takes place in Leeds to honour Mandela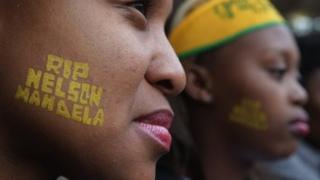 A commemorative walk in honour of former South African president Nelson Mandela has taken place in Leeds.
Hundreds took part in the event on Saturday, named the 'Walk of Respect'.
The event started at Mandela Gardens, in Millennium Square, and finished at the Mandela Community Centre in Chapeltown.
Organiser Dr Carl Hylton said its was "a celebration of Mandela's life, his legacy and the pivotal role he played in the struggle against apartheid".
Mr Mandela was made an honorary freeman of Leeds during a visit to the city in 2001.
A traditional wake was held at 19:00 GMT at Leeds West Indian Centre, in Laycock Place.