West Yorkshire missing sex offender is 'risk to children'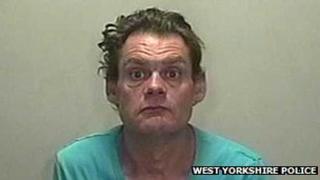 A convicted sex offender who is regarded as a risk to children has gone missing in West Yorkshire.
Robert Edward Hind, 46, disappeared from an address in Dewsbury on 11 December after being recalled to prison.
Police described him as "a known sex offender who has a range of offending history and presents a risk to the public, particularly children".
He was due to go back to prison after he breached the terms of his licence.
Det Ch Insp Paul Jeffrey said he believed Hind was still in the West Yorkshire area.
"Extensive inquiries have been conducted to trace him and these are continuing. His details have also been circulated to other forces.
"It is likely that he is using public transport to get around and I would urge members of the public to let us know immediately if they believe they have seen him."