Leeds White Rose scheme approved despite Bradford objections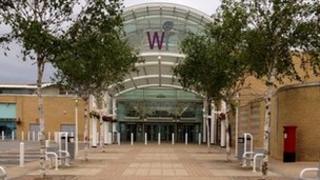 Planners have approved a scheme to extend a shopping mall on the outskirts of Leeds despite objections from developers of a nearby project.
Westfield, the firm behind Bradford's much-delayed shopping centre, had opposed the planned extension of the White Rose Centre in south Leeds.
The scheme includes a cinema, extending major shops and adding catering units.
Planners approved the scheme subject to negotiations with White Rose over the funding of nearby transport schemes.
A spokeswoman for Leeds City Council said: "The application has been approved subject to negotiations around the £400,000 fund for potential transport issues near the development."
No-one from the White Rose Centre was available for comment at the time of publication.
On Thursday evening Westfield said in a statement: "Westfield remains fully committed to the Bradford development despite the outcome of the White Rose expansion planning decision."
Westfield had said the Leeds scheme would have "a significant adverse impact" on its plans.
Local MP Ed Balls, in whose Morley and Outwood constituency the White Rose Centre sits, had backed the development.
Work started on Westfield's Bradford site in March 2004 but was halted in February 2008 leaving a building site in the city centre.
Local residents have since nicknamed the 12-acre building site the "Bradford hole".
Cinema plans
In May 2012 protest group Occupy Westfield pitched tents on the empty site to raise awareness about the lack of progress on the Bradford Westfield retail scheme.
The Westfield company said it would start work on the site in late 2013.
In the White Rose scheme submitted to Leeds City Council, Ravensleft Properties Ltd applied to build new and enlarged retail units, alter vehicle access and carry out landscaping works.
The biggest development proposed would be the introduction of a 12-screen cinema with a combined capacity of 1,920 seats.
An additional block of food outlets would be added to the existing provision at the centre.
The application would also see the Debenhams store increased by 3,326 sq m over two levels.
The Primark store would be extended on three storeys, with two floors used for retail and the top floor for "back of house" provision.
Planners approved the scheme which will see 670 of the centre's existing 4,697 parking slots lost, but some additional staff parking at a nearby site.
Among the objections put to Leeds planners was a letter on behalf of several developers and investors in Bradford city centre, among them the Westfield Bradford Ltd company.
Their objections said the proposed plan would "impact on existing centres and on planned investment, including the [Westfield] Broadway scheme."
The letter also said "delivery of the Broadway scheme is at a critical stage and there is a serious risk of timely implementation".
Other objectors to the scheme included Morley Town Council, Leeds Civic Trust, John Lewis and the developers of the Victoria Gate scheme in the centre of Leeds.