Nelson Mandela: Life commemorated at Leeds Minster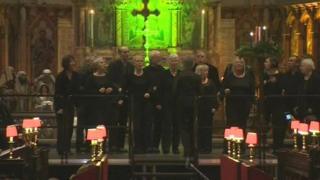 A commemorative service for the life of Nelson Mandela has been held at Leeds Minster.
The former South African President was made an honorary freeman of Leeds during a visit to the city in 2001.
He took to the stage at Millennium Square for a concert that day in front of thousands of people.
The service was conducted by the Rt Revd John Packer, Bishop of Ripon and Leeds, and Canon Tony Bundock, Rector of Leeds.
'Unemployed criminal'
The Rt Revd John Packer said: "This is a time of mourning but also of celebration, and this service can be a celebration of his life and a reminder that there still is the pursuit of justice within our world."
In the 1960s after he had been sentenced to life imprisonment in South Africa, Mr Mandela was named as honorary president of the students' union at the University of Leeds.
He was released in 1990 and 11 years later he visited the city.
After receiving the freeman of the city honour, he told the assembled dignitaries: "Firstly, I am a pensioner.
"Secondly, I am unemployed. And thirdly I have a criminal record."
Mr Mandela also rededicated the city centre gardens named in his honour on his visit.
'A great gift'
Among the people who met Mr Mandela that day in Leeds was footballer Lucas Radebe, who played more than 70 times for South Africa. He went on to play for more than a decade at Leeds United.
Radebe grew up under apartheid as part of a large family in Soweto.
In an open letter to Mr Mandela after his death, he said: "When captaining teams, whether Bafana Bafana (South Africa) or Leeds United, you were my role model for leadership.
"Your ability to bring people together for a common cause, despite their differences, was a great gift."
Although the commemoration service was conducted in the Christian tradition it also included contributions from other faiths represented in the city.
Civic leaders attended the service organised by Leeds Minster, the council and Leeds Churches Together in Mission.