Dog attack victim Emma Bennett dies in Leeds hospital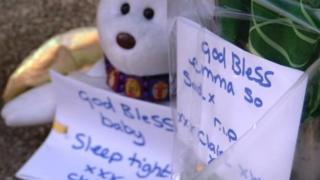 A pregnant mother-of-four who was seriously injured in an attack by two dogs in Leeds has died.
Emma Bennett, 27, died at Leeds General Infirmary on Tuesday night after being treated for dog bites, following the incident at about 14:30 GMT on Monday.
West Yorkshire Police said a man, 33, had been arrested on suspicion of offences under the Dangerous Dogs Act.
The two dogs are believed to be American pit bull terriers, which are subject to restrictions under the act.
Ms Bennett was bitten at a house in Dawlish Avenue, Osmondthorpe.
'Horrific circumstances'
Police said one of the dogs got out of the house but was later found in a nearby street. The other was safely removed from the property.
Det Supt Simon Beldon said: "Early indications are that the two dogs seized from the address are American pit bull terriers although tests are still ongoing to establish their exact make up.
"Dogs of this type are subject to restrictions under the Dangerous Dogs Act and our enquiries are focused on this aspect.
"We are continuing to appeal for anyone with information about the incident or the dogs involved in it to contact the investigation team."
In a statement, Ms Bennett's family said they were "devastated" about what had happened.
"Not just because she has been taken from us so suddenly, but because of the horrific circumstances and the fact she was on her own at the time she was injured.
"Emma was a mother-of-four and although she had had some issues in her life she loved her children.
"She was a lively person who had a great sense of fun but she was also strong-headed and had her own opinions."
Ms Bennett's mother, grandparents, younger sister and two younger brothers were all at her bedside when she died, they added.
Floral tributes, including one which said "God bless baby, sleep tight", have been left outside Ms Bennett's home.