Pontefract's former colliery to become housing estate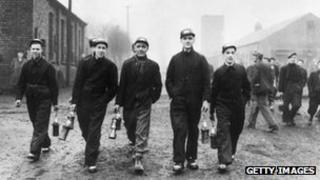 More than 900 homes are to be built on a former colliery site in West Yorkshire.
Work has begun at the former Prince of Wales Colliery site in Pontefract following planning consent from Wakefield Council. Plans include shops, a medical centre and new park.
The 77-acre site is the former pit yard and spoil heap, Harworth Estates said.
Coal extracted from the spoil heap to form a new country park is to be used to supply coal-fired power stations.
More than 3.5 million tonnes of coal is to be taken from the spoil heap and slurry lagoons.
Soil is then to be added to remodel and prepare the site for development.
The site is to include 917 houses, employment space, shops, cafes, a medical centre, a community centre, a nursery and parkland, Harworth Estates said.
Councillor Peter Box, leader of Wakefield Council, said the start of work represented a "significant step forward for the regeneration of Pontefract".
The Prince of Wales colliery was a drift mine founded in 1880 until its closure in 2002.
The site has also been earmarked as a route for the proposed Northern Link Road into Pontefract from the nearby M62.