Leeds allotment rent rise faces legal challenge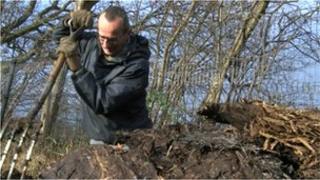 Allotment holders have launched a legal challenge over Leeds City Council's plans to almost double rental charges.
The cost of renting a full council allotment plot in Leeds currently stands at £38.50 a year, but that will rise to £58 in 2014 and £72 in 2016.
Leeds and District Allotment Gardeners Federation (L&DAGF) said it had issued an application for a judicial review in the High Court into the increase.
Leeds Council said it would "robustly dispute" the federation's legal move.
The L&DAGF, which represents allotment owners at about half of the 97 sites run by Leeds City Council's Parks and Countryside service, said "a huge number" of its members were worried by the planned rent rise.
'Unreasonable' rise
Ian Wood, federation chairman, said while members appreciated the council was "under a lot of financial pressure", the three-year phased rise was "unreasonable".
"It's just not right that the council is able to put up the rent very significantly for individual members and at the same time expect the allotment associations to continue to maintain sites to a high standard."
In a statement, Leeds City Council said it faced "huge reductions in funding which require difficult decisions to be taken".
"We are very disappointed that the Leeds and District Allotment Gardeners Federation have chosen to take such a course of action which the council will robustly dispute.
"There is no merit in taking this course of action which in itself is likely to cost the public purse. There is a modest rise in allotment rents of 34p per week, starting next year.
"Other alternatives were also considered, but the majority of the allotment holders who responded to the consultation were in favour of a general price rise."