Leeds' Mezz Club has licence suspended over 'rape' ads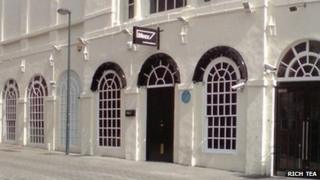 A club that used video on which male students are said to have joked about rape to promote an event has had its licence suspended.
Leeds Council suspended the Mezz Club's permit after concerns over advertising for a freshers' night in October.
West Yorkshire Police said the promotions, which the police claim were run by Tequila UK and endorsed by the club, encouraged "violent sexual acts".
Tequila UK and the Mezz Club were not available for comment.
Leeds City Council said once the club on Assembly Street was sold and new owners and a management team were found, the three-month licence suspension would be reduced.
The council said the club's management team "would not be involved in any managerial role in the management of these premises".
It also said Tequila UK events would not be held at the premises in the future.
'Avoid being violated'
West Yorkshire Police said the licence review had been ordered on the grounds of crime, disorder and public safety "linked to highly inappropriate and sexually suggestive advertising campaigns".
Advertising for the "Fresher's Violation" event on 3 October is said by police to have shown alcohol being poured into people's mouths. Police claim the advertising was endorsed by the premises supervisor.
Police said promotional video footage on YouTube showed "males being asked how they were going to violate their fresher, and answers included references to rape and other violent sexual acts".
"Females were asked how they were going to avoid being violated."
Police claim the premises supervisor showed an "unconcerned attitude" when they contacted Mezz Club after a 2,500-signature petition called for the event to be banned.
The event and similar nights were likely to lead to "an increase in associated offences and pose a real threat to public safety", according to police.