Roads around Bridgewater Place to be closed due to wind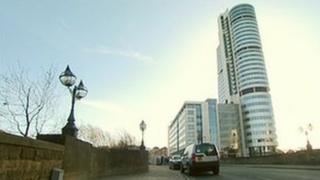 Roads around Leeds' tallest building will be closed due to winds forecast to reach 75mph, just two days after a coroner said action needed to be taken.
Dr Edward Slaney was crushed by a lorry that toppled over next to 32-storey Bridgewater Place in 2011.
Coroner Melanie Williamson said the junction should be closed to all users when gusts reached about 45mph.
Leeds City Council said Victoria Road, Water Lane and Neville Street would be closed to vehicles on Thursday morning.
However, pedestrians will be allowed access.
The Met Office has issued an amber "be prepared" warning for strong winds in Yorkshire on Thursday.
Dr Slaney, a 35-year-old environmental engineer from Sowerby Bridge, West Yorkshire, was walking on a bridge over the River Aire in Neville Street on 10 March 2011 when a lorry landed on him.
The inquest at Leeds Coroner's Court into his death heard the area around the 367ft (112m) tower had become known for strong winds since the building was completed in 2007.
'Traffic disruption'
Recording a narrative verdict on Tuesday, Ms Williamson said: "Leeds City Council should ensure the junction of Water Lane, Victoria Road and Neville Street is closed to all highway users as soon as wind speeds in that location attain a speed of 20 metres per second [about 45mph]."
The authority's current policy is to close the roads to vehicles, including bicycles, when wind speeds reach 65mph, but Thursday will be the first time this has been implemented.
Leeds City Council's director of development, Martin Farrington, said: "Given the high winds forecast and the known risk caused by Bridgewater Place, we will close the roads around the building tomorrow.
"We appreciate the traffic disruption that this will cause, but these are exceptionally strong winds and we have to consider the safety of all road users.
"While we need to take time to examine the coroner's recommendations, we would have had to close the junction tomorrow anyway due to the weather forecast."
The building's owner, CPPI Bridgewater Place, has agreed to take over the design of a wind safety scheme for the building and surrounding area, and the council said it expected plans to be submitted by the end of the year.