Kenneth Ebbrell: 'Spiral dive' killed paraglider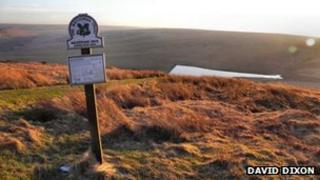 An experienced paraglider was killed when he went into a "spiral dive" that he could not escape, an inquest heard.
Kenneth Ebbrell, from Unsworth, Greater Manchester, crashed at Buckstones Edge near Huddersfield, West Yorkshire, on 10 November last year.
He was found conscious on the rocks but died a short time later.
The jury at Bradford Coroner's Court heard the 54-year-old was between 50-100ft (15-30m) high when he appeared to get into difficulties.
Hang-glider pilot Keith Quinney told the jury he was watching from the ground and thought the wind was too strong to fly.
"All these things you do at your own discretion," he said.
Mr Quinney said he saw the wings of Mr Ebbrell's paraglider "tuck" in a couple of times before the whole thing began to rotate.
"It happened with remarkable rapidity," he said.
"I would not have known, if it had been me, how you would get out of it."
Cardiac arrest
Mark Dale, technical manager of the British Hang Gliding and Paragliding Association, conducted an investigation for the Air Accidents Investigation Branch.
He told the inquest safety advice for Buckstones Edge states the site is "definitely not for the novice" and warns of turbulence when it is windy because of the lie of the land.
Mr Dale said Mr Ebbrell was too low to correct himself as he went into the spiral.
"There just was not the space, the height," he said.
"Probably your only chance would have been to throw your emergency parachute."
Pathologist Alan Padwell told the inquest Mr Ebbrell suffered a compound fracture to his right elbow, fractured pelvis and multiple fractures to his ribs.
He said he could not rule out that a heart attack might have caused Mr Ebbrell to lose control while paragliding.
He concluded the cause of death was chest injuries and acute cardiac arrest.
The hearing was adjourned until Wednesday.