Bridgewater Place inquest: Coroner calls for road closure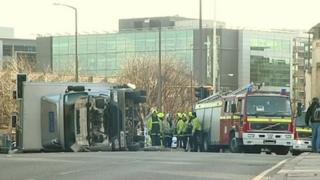 The road by the tallest building in Leeds should be closed when there are strong winds to prevent any more deaths, a coroner has said.
Melanie Williamson recorded a narrative verdict at the inquest of Dr Edward Slaney, who was crushed by a lorry next to 32-storey Bridgewater Place in 2011.
The road, at the junction of Neville Street and Water Lane, is one of the main routes into the city centre.
Leeds City Council said it would consider her recommendation.
Dr Slaney, a 35-year-old environmental engineer from Sowerby Bridge, West Yorkshire, was walking on a bridge over the River Aire in Neville Street on 10 March 2011 when the lorry toppled over and landed on him.
The inquest at Leeds Coroner's Court previously heard "freakishly high" wind speeds of between 67mph and 79mph were recorded at the building that day.
Ms Williamson recommended that Leeds City Council should close the road where Dr Slaney died when wind speeds reach about 45mph.
The coroner said she appreciated it would not be "looked upon with favour" by the local authority.
Bridgewater Place, which is 112m (367ft) high, was completed in late 2007, and the council began receiving complaints about strong winds in January 2008.
The inquest, which has been adjourned a number of times for investigations to take place, heard a wind assessment was done as part of the planning process but it did not flag up potential problems with vehicles using surrounding roads.
In October, the authority said the building's owner, CPPI Bridgewater Place, had agreed to take over the design of a wind safety scheme for the building and surrounding area, and expected plans to be submitted by the end of the year.
Dr Slaney's brother, Andrew, said he was "relieved" the inquest was over, but added that if action had been taken sooner, "Ed would still be here today".
"I hope [closing the road] will spur the council and the developers into action," he said.
Natasha Mahoya, who was seriously injured in the incident, said: "I'm glad of the recommendations and I welcome the closure of that road because I can't bear to think of this happening to anyone else.
"I'm still recovering, I've got long-term conditions that I have to live with, and I'm constantly reminded every day that I survived."
Ms Mahoya said she was frustrated that wind mitigation measures had not yet been put in place.
"It took them four years to even consider doing anything, and even now, nothing has been done," she said.
The council's director of development, Martin Farrington, said: "It has been an absolute priority for us ever since we first heard of the wind issues around Bridgewater Place to resolve these as safely as possible for both pedestrians and road users.
"We support the view of the coroner that the building's owner needs to bring forward the wind mitigation measures that we have been pressing for for a very long time and we will continue to do so.
"We will consider very carefully her recommendation to close the junction during high wind speeds."