Foodbank opens in 'affluent' Leeds suburb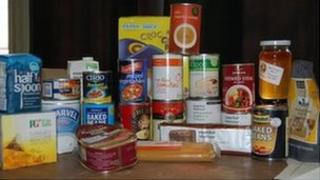 A foodbank is being opened in an "affluent" north Leeds suburb to help residents in financial hardship.
Organisers the Trussell Trust said a need had been identified for a facility in Moortown.
Karen Burgon, project manager, said despite the area's "affluent" image some people were "in crisis".
The foodbank is based at Moortown Methodist Church. Vouchers are available at a range of places including health and children centres.
Ms Burgon said there was a myth around the type of person who used a foodbank.
"We've seen people from affluent areas come to us whose husbands have left them with the children and cleared out the bank account.
"We've had a man in work whose wife has left and he's now struggling to maintain the family and work so it's about people in crisis not necessarily about people who you would immediately think of."